Summer Burst with Milk & Cookies!
August 20, 2013 at 10:57 am 4 comments
Apologies for any of you popping across and just seeing the photo- I pressed the wrong button & so it posted without me being able to add any text!
Well. hullo.
Today's set is courtesy of the gorgeous W Plus 9 new set 'Milk and Cookies'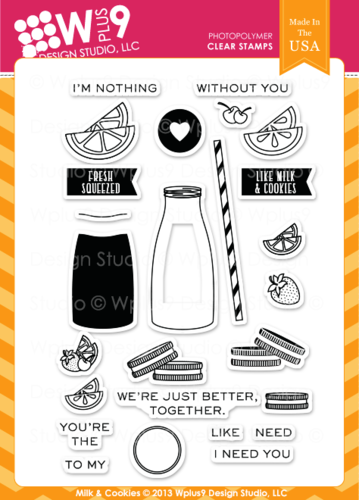 which is a pretty fine set don't you think?! I'll get plenty of mileage with the milk and cookies (who wouldn't?!) so whilst there is a little sunshine left, it seemed only right to revel in a few rays!
My littlie was unimpressed with this card. I explained that I was 'working' (creating this card especially for Make The Day Special). Glancing disparagingly at my creation he smirked and said "they make you make babyish stuff"?!!
Yep, thanks Will. Make The Day Special is not about 'babyish' stuff although the design team are often known to be giggling about something 😉
Of the many stories from our recent camping trip- I'll leave you with the shortest, yet hardly sweetest. If, right now you're nibbling your lunch or having a mid morning biccy- please put it down..you may not want to be eating whilst consuming the delights of this tale!
For those only used to 5 star accomodation, glamping or have never been on holiday resembling an outdoors hotel, there are the lovely parts and the necessary pretty yucky parts. Obviously, emptying the chemical 'convenience' was a job I couldn't farm out to anyone else. My lovely sister-in-law had given me the run down on what to do- this kinda stopped at removing the loo from the caravan. The rest was up to me.
I managed to retrieve it from the caravan and even navigate the handle to turn it into a loo attendant's version of a flight hostesses attache case. Took me a little while to figure out exactly where the special emptying facility was and that was when I got a little stupefied.
I wasn't entirely sure how to vacate the contents. There were several buttons/sliders. I pressed one which resulted in a little 'leakage'.
Bleurgghh.
I slid something & twisted something, not having the holder in the entirely right position meant there was a little splashing around. This would have been entirely fine had a) it not been windy & b) I was wearing a flowing skirt.
What a numpty.
There I stood, with fast flowing stuff in one hand, and the other frantically trying to keep my billowing skirt from making contact with the stuff. It was a battle I can tell ya!
As I was trying to hold the hosepipe (not right at the bottom) I was keenly aware that as I hosed down, this little piece of hose probably held 1 squillion of less than savoury germs. Steve's face as I returned was one of great amusement. I asked him to bring Fairy Liquid & turn on an outside tap for me. I washed my hands.
A lot.
And then, if that wasn't enough, I washed them again.
And to complete the adventure I chased Steve back to the caravan trying to touch his rugby top. Ha. Serves him for smirking!
Yet again, I learnt a valuable life lesson. No more skirts & hopefully, no more chem loos if I can help it.
Better go, feel like rinsing my hands again!
See you, when I've made a more 'mature' card that gains the littlie's approval! xx
Entry filed under: Uncategorized. Tags: camping, caravan adventures, CAS cards, emptying out chemical toilets, keren baker, Milk & Cookies, summer cards, w Plus 9.
Fresh Squeezed Stamps & Flip Flops! Birthday Greetings and Books!